Featured Best Friend
Mehgan is my best friend. She has kept me alive the past 3 years so I need to thank her for that. She doesn't have a boyfriend at this time but it wouldn't be hard for her to get one, I'm sure. She's dating Evan, who is this hippy kid but he's cool. Mehgan is an emo chic. She is a lacto vegetarian. I'm not quite sure what that means but I know she eats no meat and I think the only diary thing she doesn't consume is milk. Mehgan likes going out and doing stuff with me. She didn't used to. She used to be a prep and actually care about what other people thought of her. She is my partner in crime.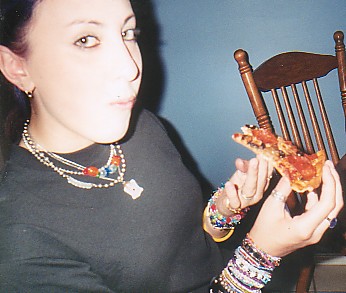 Mehgan is actually eating meat in this picture. Sometimes she gets those meat cravings-or shes just too lazy to pick it off.